Use this section as a resource for DoorDash and Toast Delivery Service support topics. Below are answers to FAQs.

For a printable quick reference guide including DoorDash contact information, click here or on the image below.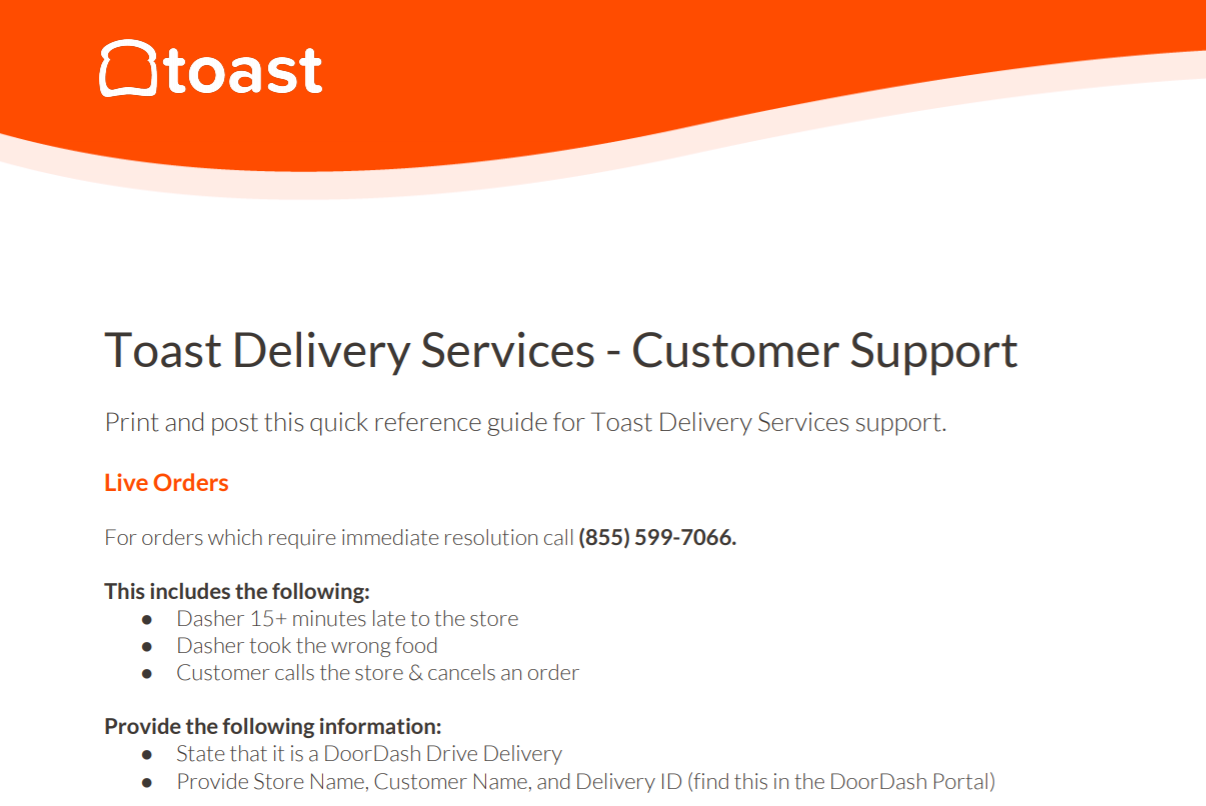 FAQ Topics:
Delivery Timing and Hours
Delivery Radius
Delivery Fees
Driver/Order Issues
Billing/Refunds
Door Dash Portal
Guest Information
Managing Order Volume
General Questions
Delivery Timing and Hours
How is the delivery time determined for the guest?
This is done by using your Online Ordering prep times to set a pickup time for the driver. To learn more about setting your Online Ordering prep times, check out the article Online Ordering: Advanced Settings. The guest then sees that prep time plus the estimated time DoorDash will take to deliver the order.
How does the driver know when to pick up an order?
Your "Online Ordering/Order API Prep Time" is used as the pickup time for the driver. This is set up in the Prep/Time section. Go to Other Setup and select Prep/Delivery Time.
What hours are used to determine when delivery is available?
Takeout Hours in your Online Ordering Schedule are used for Toast Delivery Service. To view, go to Other Setup and select Online Ordering Schedule.
Can guests schedule future orders through Toast Delivery Services?
Yes, guests can select a future order time using the dropdown menu when placing an order online. The order will then be fired to the kitchen using the prep and delivery times so it is delivered to the guest by the time they selected.
Delivery Radius
What is my delivery radius?
The radius is set automatically by DoorDash. The delivery radius is 5 miles (except for NYC). This cannot be expanded beyond 5 miles. Please keep in mind that this may not be the same as your delivery radius on the DoorDash app.
Delivery Fees
If I want to offer free delivery for a period of time to my guests, how can I do that?
Go to Service Charges and set the Waive Fee Threshold to $1. This will make the delivery fee free to guests.
DoorDash will charge a per order delivery fee. The TDS system sets a $2 Delivery Fee as a default. Can I change the default $2 delivery charge to help subsidize the cost?
Yes, the delivery fee can be edited by selecting Configure delivery service fees under the Delivery Fee section. This setting can also be found by logging into toasttab.com, navigating to the Payments header, and selecting Service Charges.


How do taxes work with fees that I pay to DoorDash?
Contact your tax professional for any tax questions.
Can I charge different delivery fees based on order size?
Yes. Multiple delivery fees with different "waive thresholds" can be set up so that the fees drop off as the guest's cart size grows. This helps encourage larger orders to protect against small order sizes.

In the example below there are 3 Delivery Fees with different "waive thresholds". As the cart size grows, the delivery fee decreases until they all drop off at orders over $100 for free delivery.

Ex. 1: $10 order would charge the customer a $7.50 Delivery Fee and cost the restaurant $0 (0%)
Ex. 2: $40 Order would charge the customer a $5 Delivery Fee and cost the restaurant $2.50 (6.25%)
Ex. 3: $100 Order would charge the customer $0 Delivery Fee and cost the restaurant $7.50 (7.5%)



Driver/Order Issues
What do I do if the driver is over 15 minutes late for a pick up or never arrives?
Reach out to DoorDash support at (855) 599-7066.


Where can I see detailed information information about my orders and DoorDash drivers?
You can do this by looking at the DoorDash Drive Portal. Click here to learn more about the portal.
If I need support from DoorDash, what should I do?
There are different ways to get support with DoorDash:
If you have an issue with an live order such as the driver is late or you need to cancel the order, you can call (855) 599-7066 for immediate help.
If you have an issue such as a refund request you should email drive-support@doordash.com.
What if the driver picks up the order but the guest never receives it?
Only the restaurant can reimburse the guest at their discretion. Depending on the refund reason, you can then contact DoorDash to be reimbursed for the refund. Click here for a refund chart.



Billing and Refunds
How do refunds work with DoorDash?
This depends on the refund reason. Check out DoorDash's refund reason chart here. Refunds are deducted from your monthly invoice. For example if you owe DoorDash $700 at the end of a month and you had $20 worth of refunds. The $20 will be deducted from the $700 you owe on your invoice.


How do tips and invoicing work?
DoorDash invoices you monthly for tips and delivery fees. Tips and delivery fees are deposited into your account as they get charged to guest, and invoicing happens one time per month.
How do I see more details on my invoice from DoorDash?
There is a link in the email you received and at the bottom of the invoice with more specifics on billing details.

What is the aggregator fee?
In order to mitigate the restaurant from receiving multiple invoices, DoorDash invoices the customer for the delivery fee and Toast fee per order at the end of the month. The aggregator fee is the Toast fee owed to Toast by the restaurant and invoiced by DoorDash on behalf of Toast. It is not a fee to list the restaurant on the DoorDash marketplace. DoorDash does not have the permission to list merchants on the marketplace as part of TDS.

How can I pay my invoice?
This can be paid by check or ACH. The address to send the check to is in the email you received, and the invoice has the account and routing number for ACH payments.


Do I need to pay DoorDash directly for my invoice?
Yes, payment should be sent directly to DoorDash. This is not paid via any existing relationships or processes with Toast or DoorDash.



DoorDash Portal
I am having issues getting access to my DoorDash Portal, who can I contact?
Email drive-activations@doordash.com for help.
How do I get access to the DoorDash Drive Portal?
Visit this site to request portal access. If you sill do not have access for 3 days after filling out the form, email drive-activation@doordash.com for help.
How do I use my DoorDash Portal?
Click here for a portal overview.
Guest Information
Who receives the guest information?
The restaurant receives guest data like a typical online order.
Managing Order Volume
Can I throttle my orders while using Toast Delivery Services?
Yes, you can throttle these orders the same way you would throttle online orders.
General Questions
How can I determine which orders are Toast Delivery Service?
You can filter any report by the dining option called "Delivery by DoorDash". You may need to add the filter using the More dropdown.
Can called-in takeout orders be used with Toast Delivery Services?
Toast Delivery Services will only work with digital orders through Online Ordering or the Toast TakeOut app. Phoned-in orders cannot be used with Toast Delivery Services at this time.
Can my guests pay in cash with Toast Delivery Services?
No, only debit and credit card payments can be accepted with Toast Delivery Services.


Can I use both my own delivery drivers and Toast Delivery Services?
If you are using your own delivery drivers for your restaurant, you will not be able to use the Toast Delivery Services feature. Restaurants cannot have both at the same time and cannot switch back and forth (ex. cannot have Toast Delivery Services on the weekends and your own drivers on weekdays).
Can I remove takeout as a dining option for my guests ordering online?
No, you cannot remove the takeout dining option at this time for guests placing online orders. Both takeout and delivery must be enabled to use Toast Delivery Services at this time.

Can DoorDash deliver alcohol?
No. Toast does not support alcohol deliveries through Toast Delivery Services. Restaurants should review the DoorDash Merchant Terms for restrictions on delivery of age-restricted items.

Can a restaurant still sell alcohol for pickup and use Toast Delivery Services?
Yes. If a restaurant sells alcohol, they should designate that portion of their Menu or Group as "Pickup Only". There is not a way to set a delivery-only menu at this time. Restaurants must hold valid alcoholic beverage licenses and comply with all applicable local requirements regarding the sale of alcohol.

Note, If a guest accidentally orders alcohol for delivery, the restaurant is responsible for removing the item from the check and calling the customer to notify them.