Running a bar doesn't have to be so hectic
You can have high energy without chaos. Join thousands of bars, clubs, and lounges keeping wait times down and margins up with G2's #1 rated POS.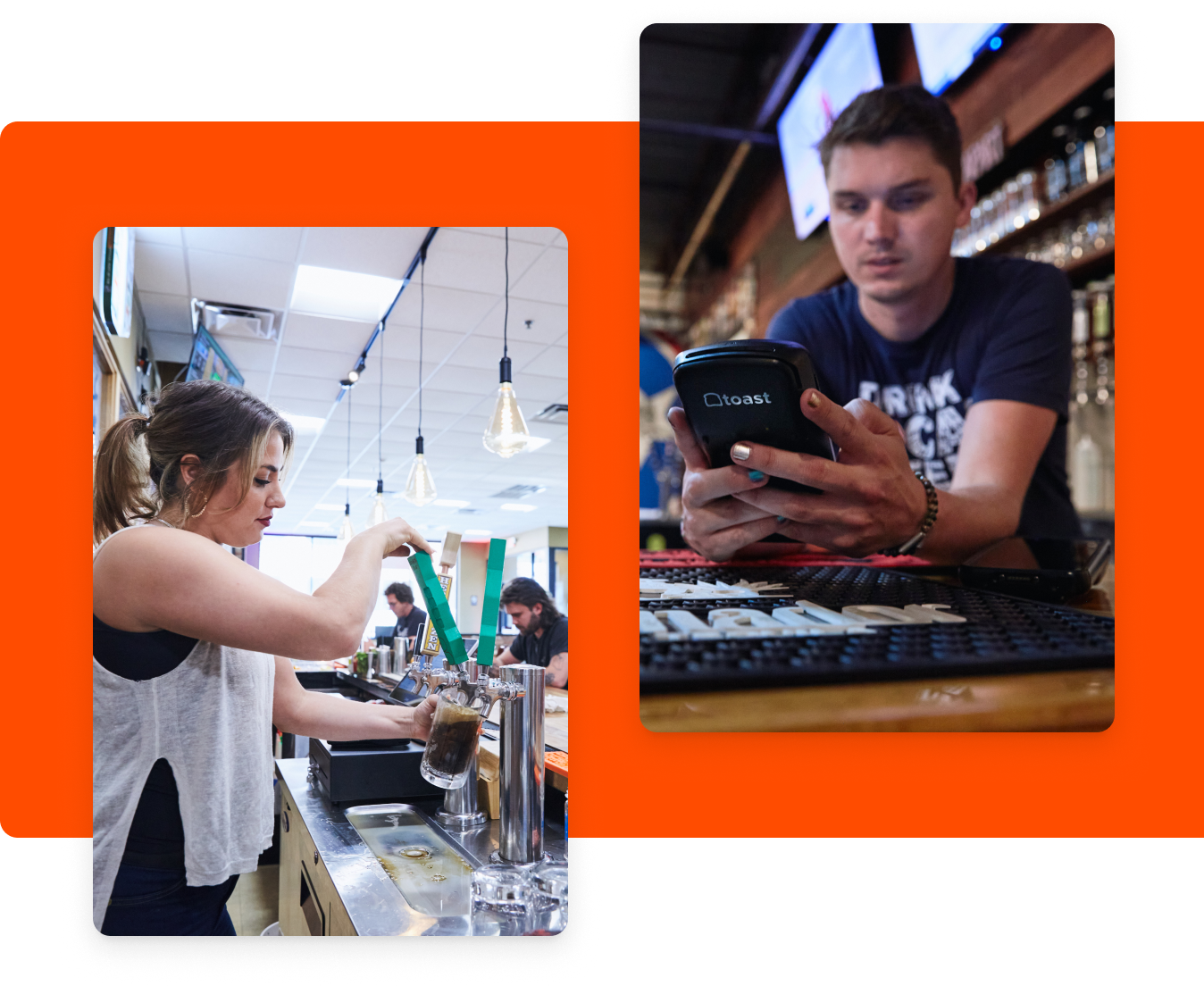 Stay out of the weeds with a POS built for hospitality
From service to reporting and beyond, you'll always be one step ahead of whatever's next.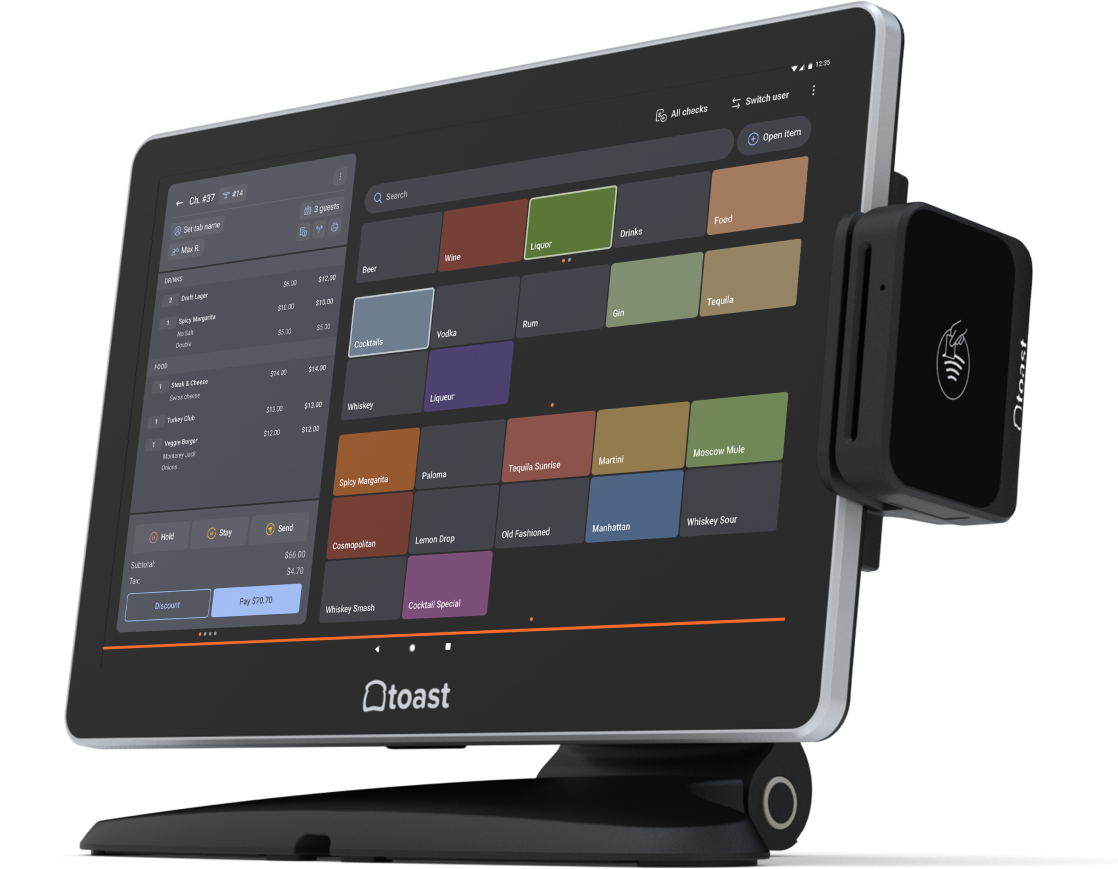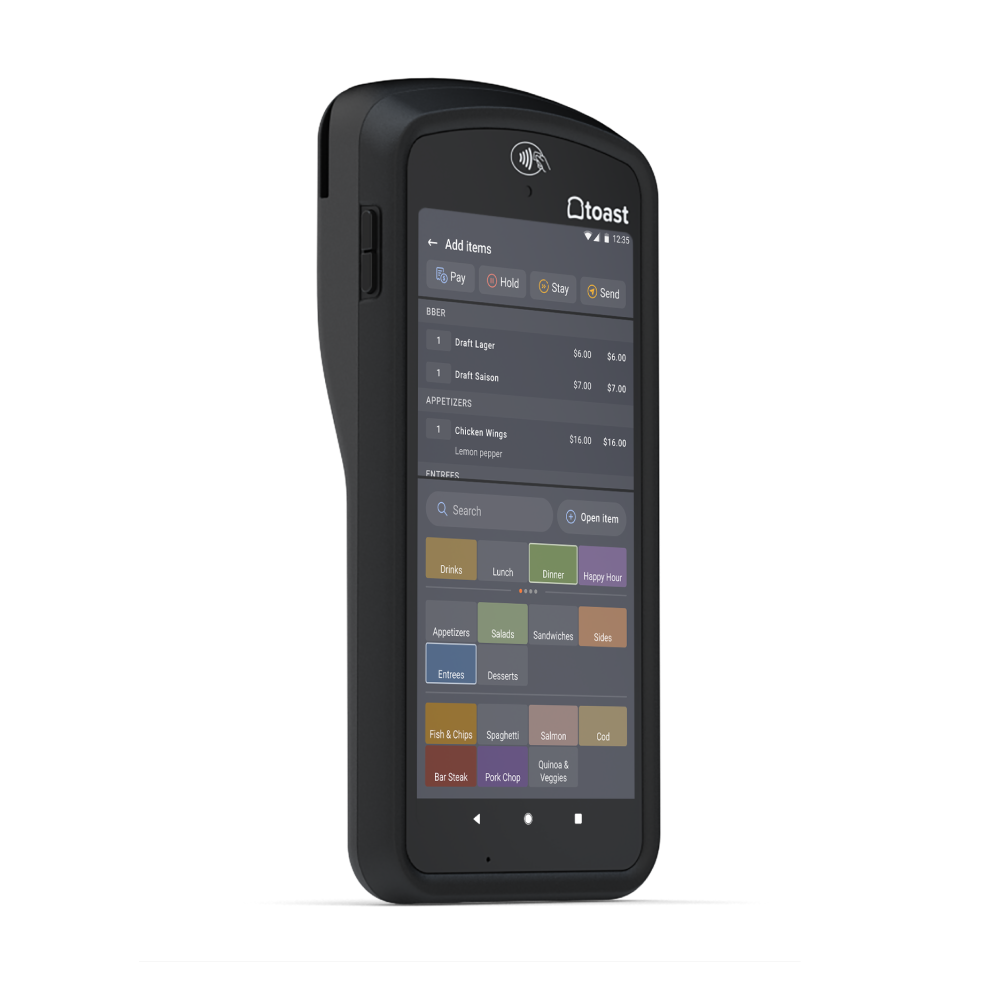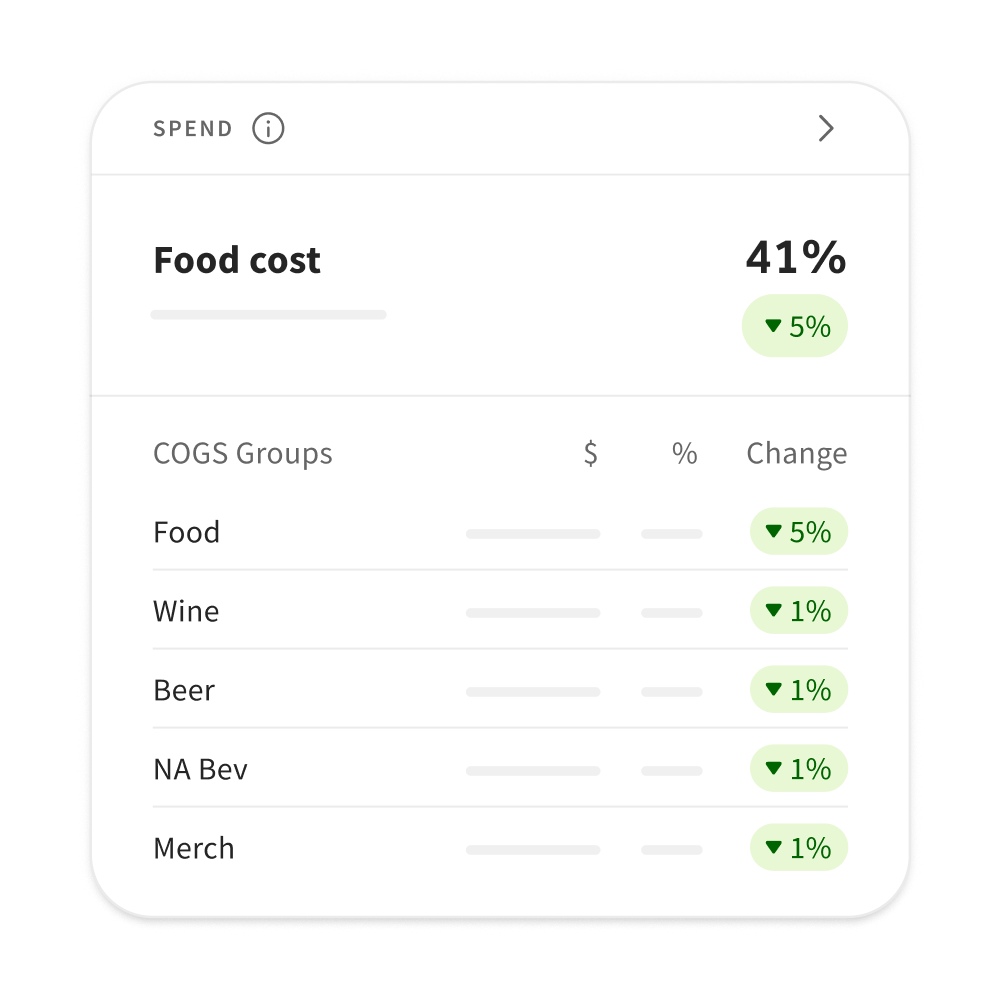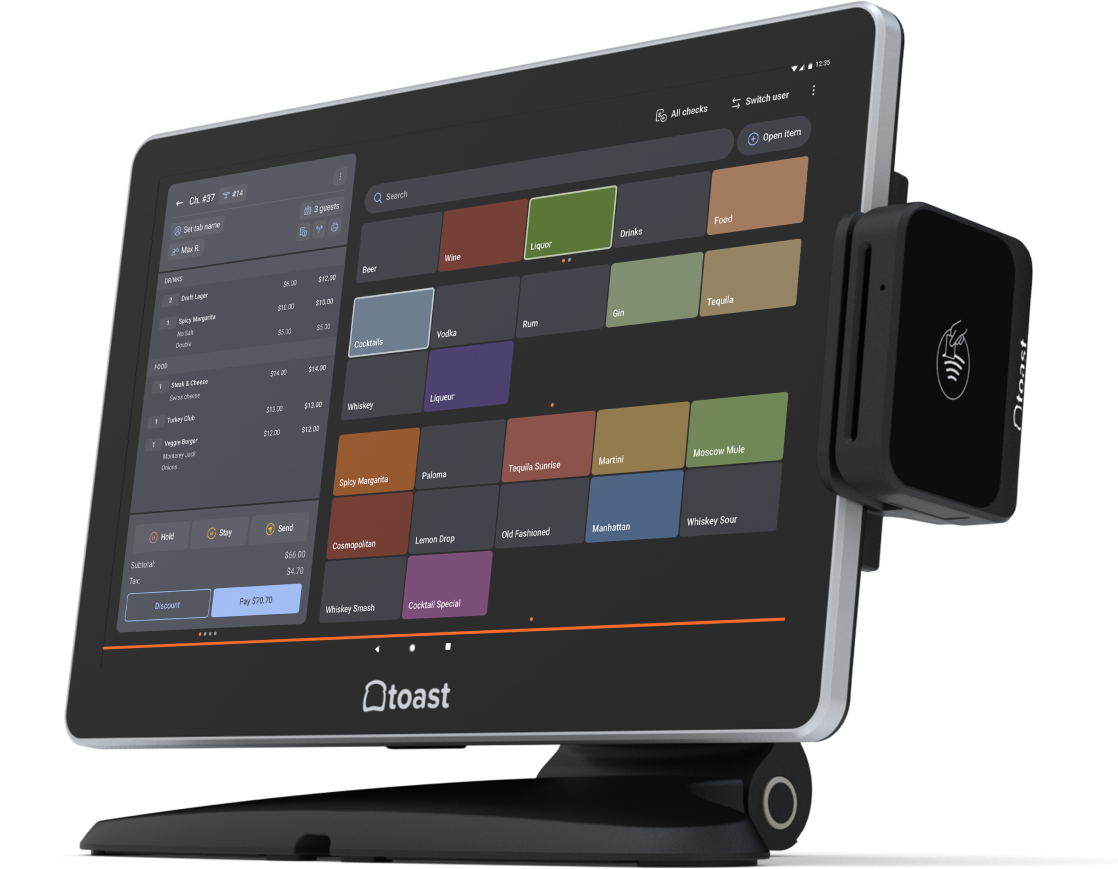 Save time and space with gear that's meant for bars
It shouldn't take minutes to ring in a house vodka. Now you can do it with a few taps and get on to your next drink.

Hardware designed to withstand everyday spills and dings, and last calls.

Items 86 themselves automatically, so no one has to check on how many cans are left.

Pre-auth cards so you don't have to hold them behind the bar. Charge and add gratuity if guests don't close out.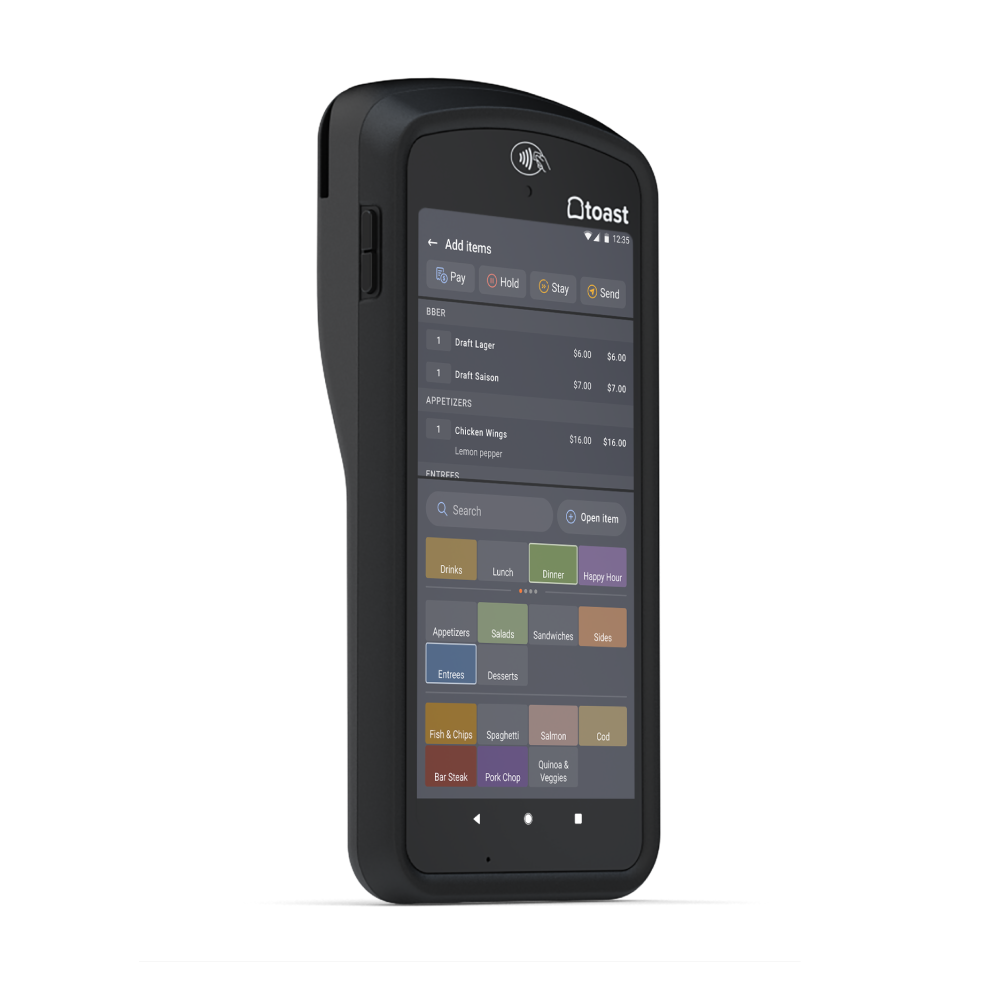 Turn three-deep lines into light work
Handhelds free you up to start and close tabs anywhere in the bar — a lifesaver during peak volume.

Let guests buy another round without waiting. QR code ordering with Toast Mobile Order and Pay™ makes it easy.

Internet down? Offline Mode lets you keep taking cards so guests don't have to find an ATM.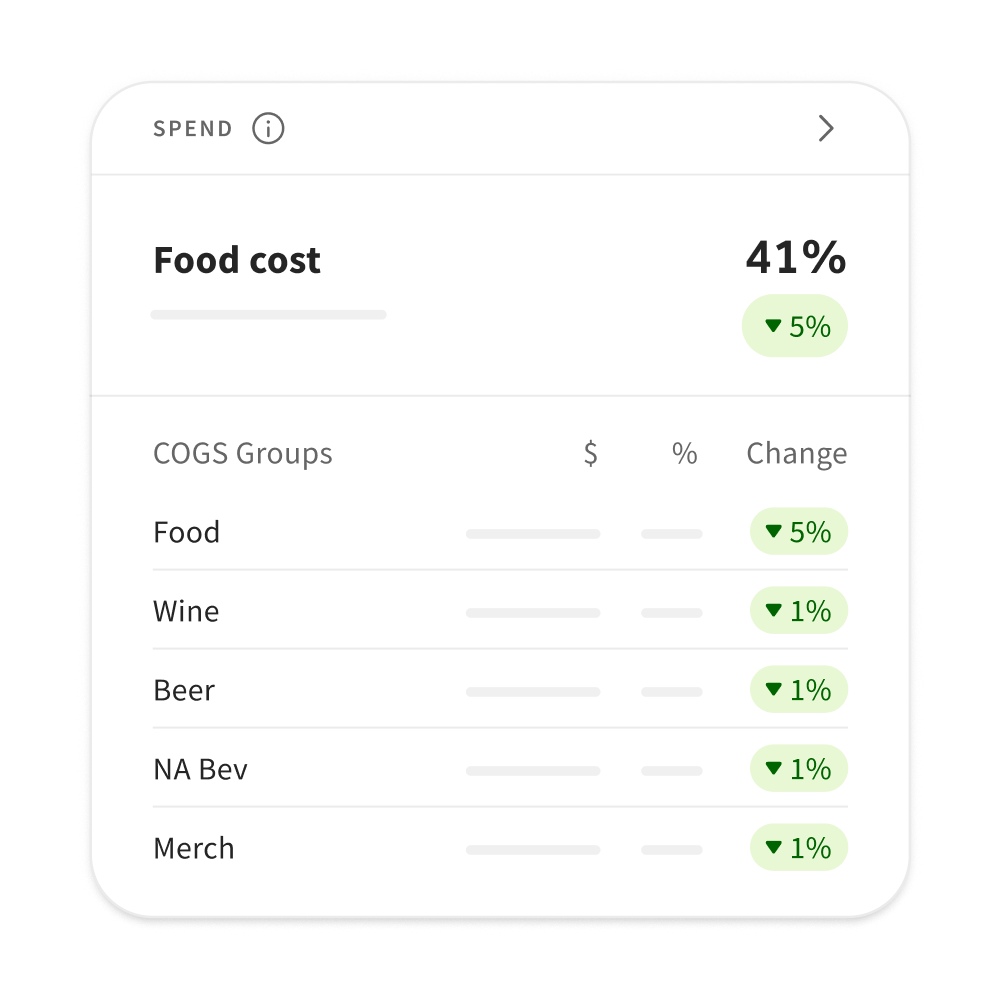 Make every square foot more profitable
Find out which sections drive the most revenue with detailed reporting.

Keep costs under control with inventory tech that keeps everyone honest.

Have a kitchen? Ramp up your takeout business with commission-free online ordering.

Retain your best bartenders with consistently higher tips thanks to guest-facing displays, handhelds, and QR code ordering.
"It's almost like having three additional employees."
Whether you're focused on speed, craft, or both, you can do it more efficiently.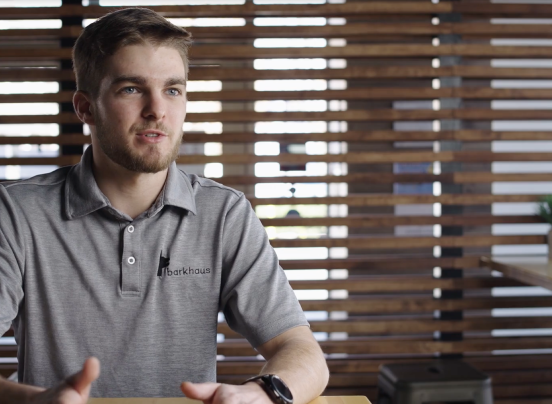 "Having Toast all-in-one system - it's almost like having three additional employees. [It gives] me time to focus on creating great recipes and sourcing good beer."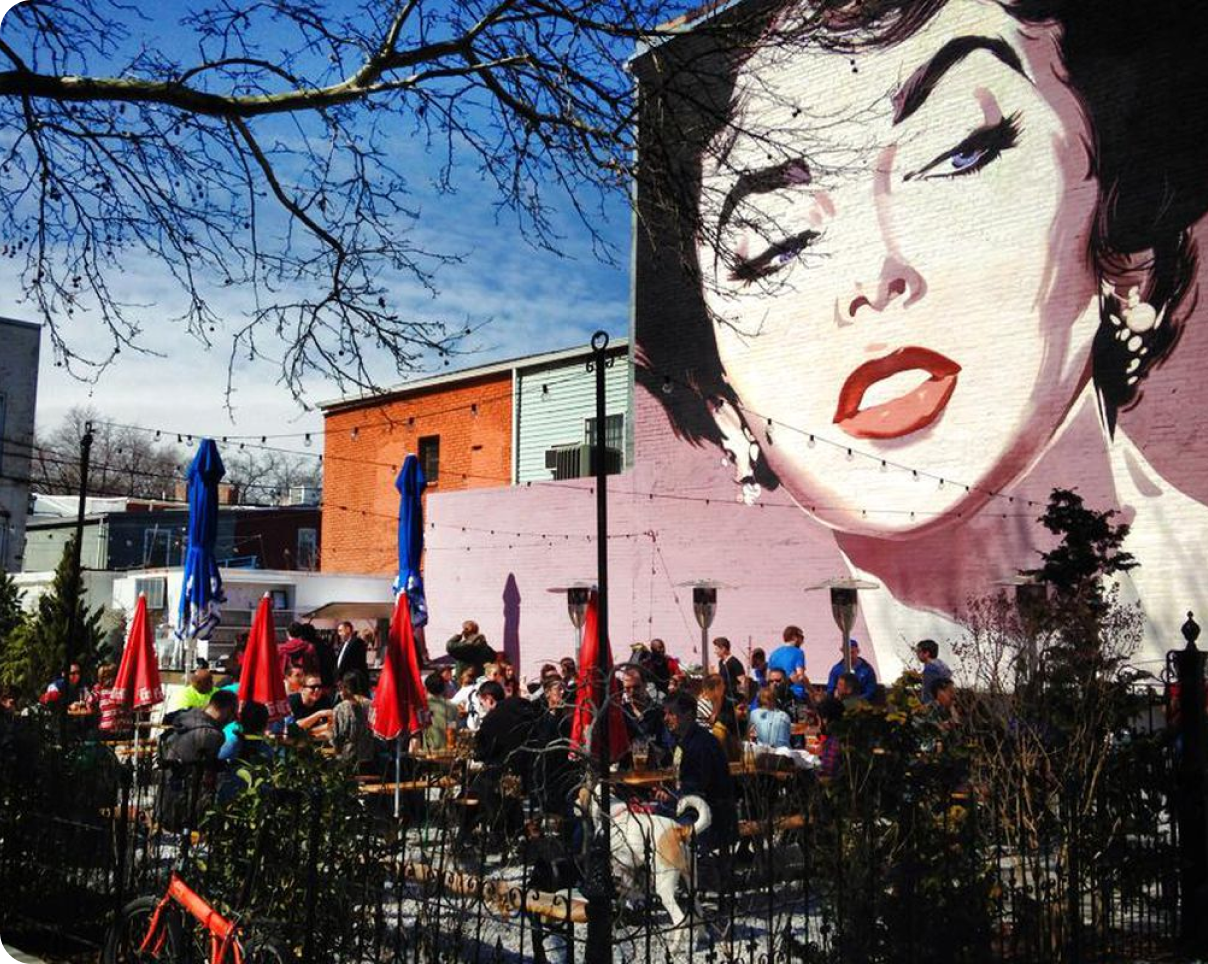 "The beauty of Toast is you've figured out how all of those features talk… it's one system. You don't have to deal with integrations."
Ilya Alter
Co-Owner
Dacha Beer Garden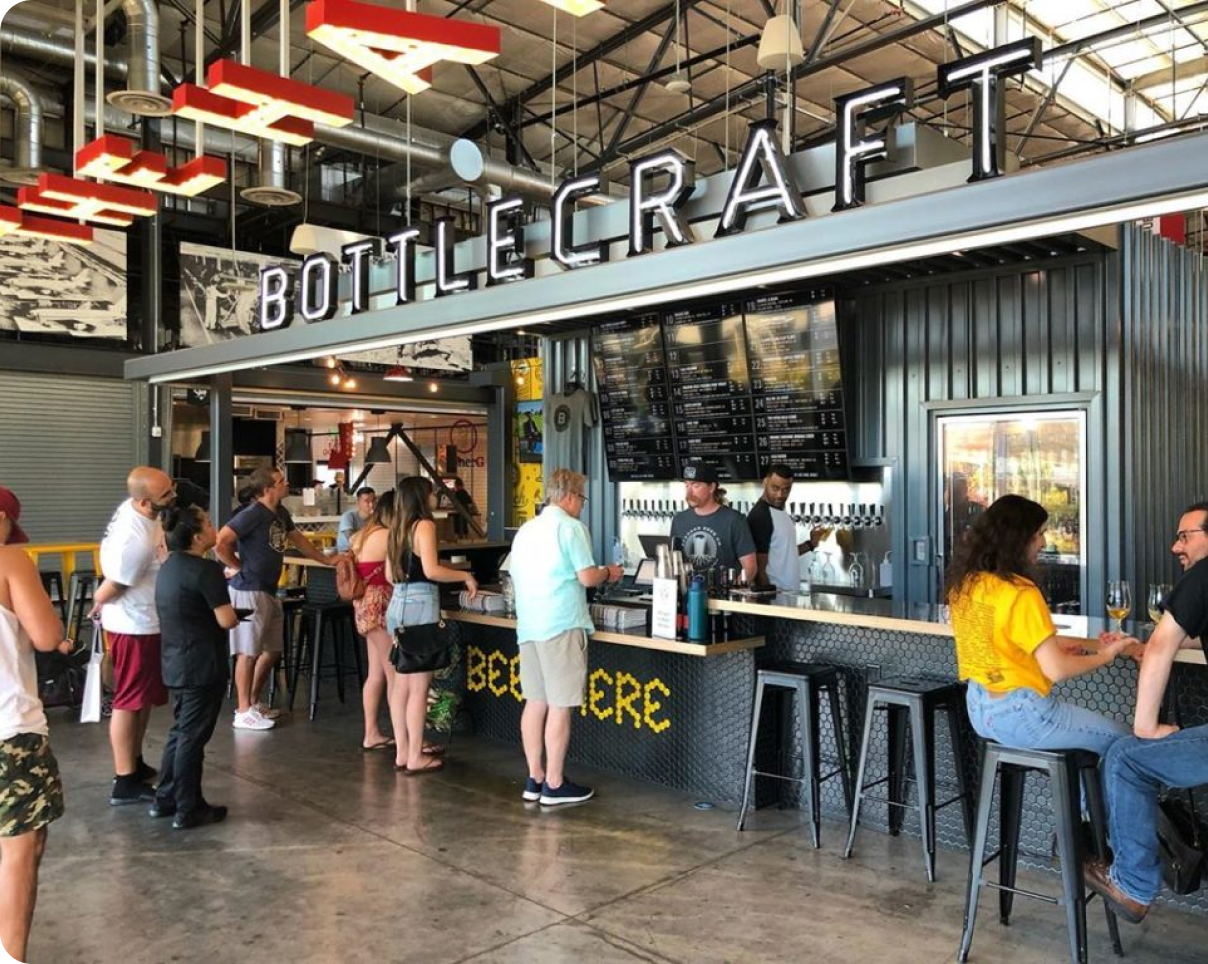 "Within the seven stores, we have a diverse makeup from 95% retail to-go sales from 95% on-premise draft beer. Talking to a human got me more comfortable with the idea that Toast would be able to manage the breadth of our business uses."
Chris Sarette
CEO
Bottlecraft Long Beach
Designed by hospitality people — you'll feel the difference
Step up with a POS partner that has your back when a shift gets messy.
Reliable through every rush
Live support is always a phone call away, even at midnight on a Saturday.
Talk to people who speak your language — 70% of employees have hospitality experience.
Find answers fast in Toast Central when you're too busy to chat.
Tough enough for life behind the stick
Spilled beers won't get through spill proof construction.
Built to survive accidental drops.
Heat-resistant gear that's just as comfortable in the kitchen.
Offline Mode to save the day if wifi drops
Put down the pen and paper — you can still ring in drinks.
No more switching to cash only.
Keep taking cards. Payments process as soon as you're back online.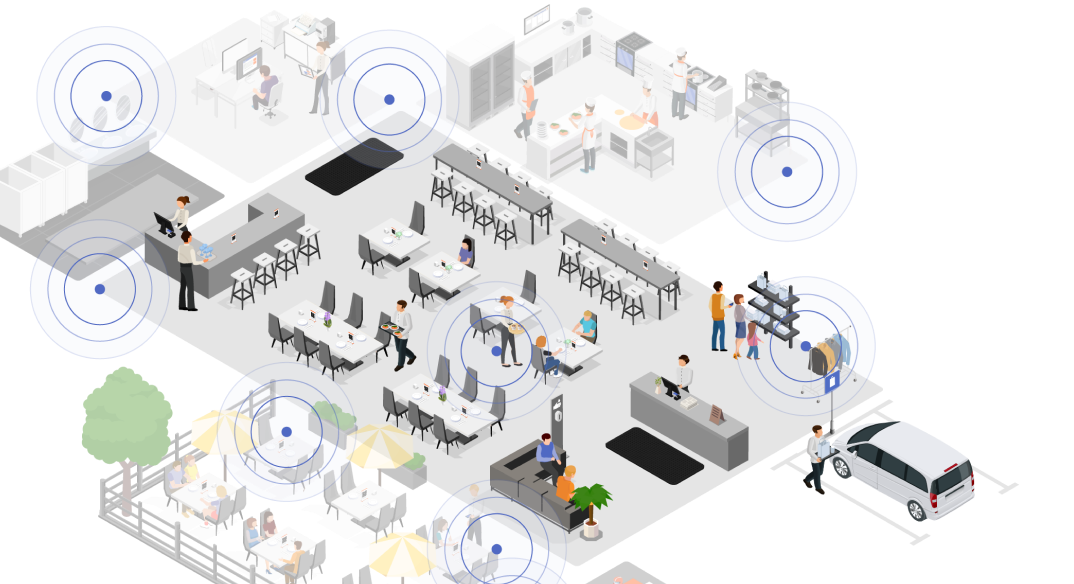 See how Toast works for your bar, lounge, or club
Now you can run your business on one platform — from POS to payroll and beyond.
Flexible plans make it easy to start or switch
0% financing
Free setup assistance
24/7/365 support
Starter Kits
For small bars and clubs looking to get up and running quickly with 1-2 terminals.
Starting at¹
$0/month
$0 upfront*
Explore Starter Kits
Toast Flex POS terminal w/ guest-facing screen + cloud-based POS software
Toast Tap payment device for cards, Apple Pay, Google Pay, and more
Simple, flat rate payment processing with real-time fraud monitoring
Customize your kit with optional add-ons
Growth
For bars and clubs looking to add revenue streams and simplify operations with an all-in-one POS platform.
Get a Free Demo
Toast Flex POS terminal w/ guest-facing screen + cloud-based POS software
Toast Tap payment device for cards, Apple Pay, Google Pay, and more
Simple, flat rate payment processing with real-time fraud monitoring
Customize your kit with optional add-ons
Build Your Own
For bars and clubs with multiple locations or anyone wanting to mix-and-match solutions from the entire Toast platform.
Get a Quote
Custom POS hardware setup + cloud-based POS software
Online Ordering and Delivery
Payroll and Team Management
Loyalty, Gift Cards, and Email Marketing
Catering & Events and Toast for Restaurant Retail
Automated Inventory and Food Costing
90+ Partner Integrations
And more
Frequently Asked Questions
Toast is built specifically for the restaurant industry, including bars, lounges, and clubs. Toast POS was ranked in 2023 as G2's leading restaurant point of sale.
Yes — you can access in-depth reports on sales, labor, customers, inventory, and much more from anywhere.
The Toast Flex terminal with guest-facing display is designed specifically for speeding up the line for any type of counter service. Toast Go handhelds and Mobile Order and Pay™ are also popular with bars and clubs that want to avoid pileups at the terminal for starting or closing tabs.
Yes, there are specific plans and pricing options available for new bars and clubs. Book a free demo to get the details.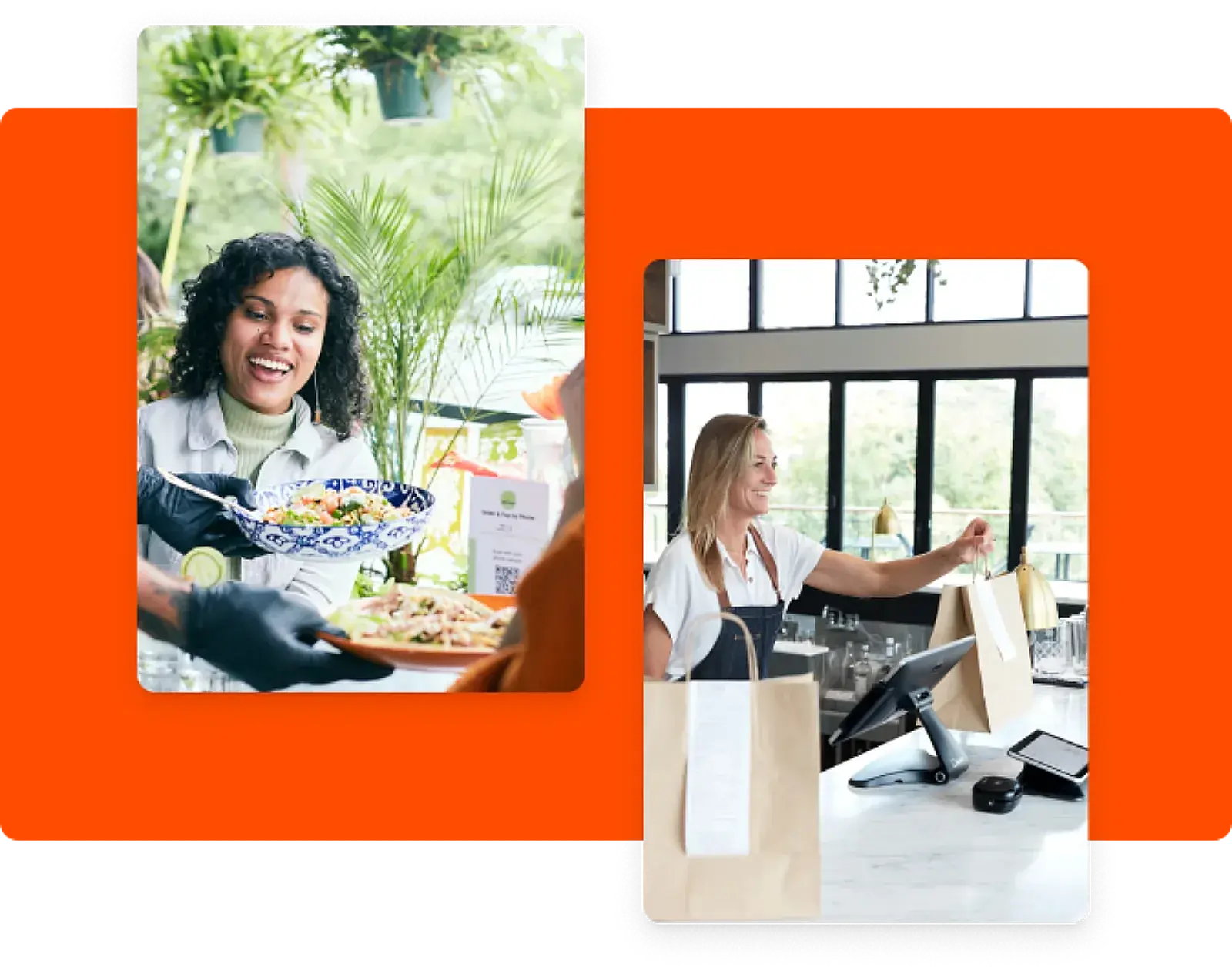 Get a free online demo from our team of hospitality pros
We'll follow up within 24 hours to find a convenient time for you.
Already use Toast at your restaurant? Log in to Toast.
By requesting a demo, you agree to receive automated text messages from Toast. We'll handle your info according to our privacy statement.
Start confidently planning your bar, lounge, or club in the next 5 minutes
Access an entire library of resources that will help you get your dream spot off the ground quickly.
1 Toast restaurants who add Toast Mobile Order & Pay™ typically see an average increase between 10% and 12% in Toast processing volume. Based on the average impact seen across different Toast restaurant segments. Based on at least 12 months of Toast internal data. Individual results will vary.
2 Over 50% of Toast Payroll & Team Management customers process payroll in 30 minutes or less. Results may vary.
3 Based on a comparison of 2020-2021 gross sales among quick service restaurants on Toast and limited service restaurants nationally, as reported by the National Restaurant Association's State of the Restaurant Industry 2022. This is not intended as a direct comparison and restaurant populations and methodologies may vary.
* Pricing applies to new customers and single locations only.
** Toast Easy Pay is a 180-day lease with an option to purchase. Toast will hold back 1.75% of your sales and any unpaid amount will be due at 180 days via ACH. Software is billed monthly. Terms and conditions apply; see your lease agreement for details. Toast may change or discontinue this product at any time. Toast Easy Pay is unavailable to Mid-Market or Enterprise customers.
*** Pay-as-you-Go pricing applies to new customers and single locations only. Plan is subject to a Platform Fee which is applied to each transaction and begins when customers start transacting. Plan is subject to a 2 year agreement.
**** Includes installation, shipping, handling, and taxes.