By Amy Skeeters-Behrens, Vice President, Social Impact, Toast
Toast's purpose is to enrich the food experience for all, and supporting the communities we serve is a natural way for us to truly embody that purpose. To that end, we launched Toast.org, our philanthropic arm, in 2019 to galvanize our efforts and sharpen our focus on solving critical issues in the food ecosystem that impact our communities.
More recently, we joined Pledge 1% and have committed to reserving 1% of our equity in furtherance of our values and social impact goals. Pledge 1% is a global movement that encourages and empowers companies of all sizes and stages to donate 1% of their staff time, product, profit, and/or equity to the philanthropic pursuits of their choosing. It's a simple and flexible framework designed to help companies weave giving back into the fabric of the company and amplify their impact, and we are excited to be a part of this thriving community of purpose-driven companies.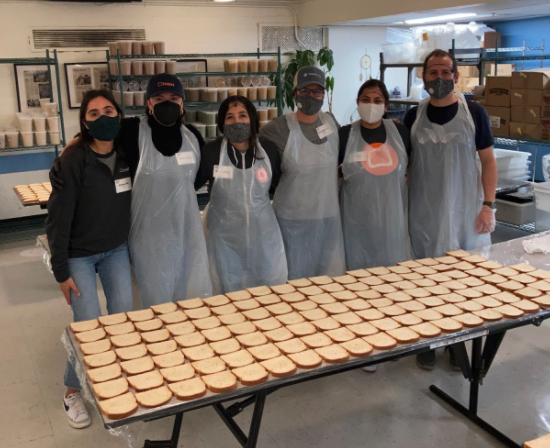 Toasters in San Francisco make sandwiches with GLIDE's meal program which serves an average of 2,000 meals every day of the year to community members in need.
Throughout November leading up to #GivingTuesday, we put our values into action. We hosted our first Toast.org Season of Giving, designed to bring the strength of Toast's people, products, and philanthropy together to support organizations addressing food insecurity and hunger in our communities. A few highlights of our efforts include:
Toasters in the Community: Hundreds of Toasters in two dozen cities around the world chose from a menu of virtual, individual, and group opportunities - from food drives to volunteering to advocacy - to make an impact on hunger in their own communities. Among the dozens of employee-led events, Toasters volunteered to create food hampers for ALONE in Dublin, donated food to a local orphanage in Chennai during Diwali, and helped a variety of nonprofits serve their clients for Thanksgiving in the Greater Boston area, such as Food Link and The Open Door.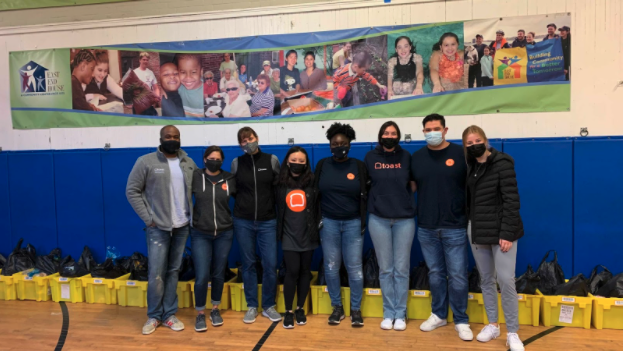 Toasters preparing Thanksgiving meals at East End House Pantry in Cambridge, MA.
Philanthropy: During our Season of Giving, Toast employees have directed over $100,000 in Toast.org grants to local anti-hunger organizations working in the US, Ireland, and India, such as a series of grants to organizations located near our headquarters in the Greater Boston Area, including Community Servings and Lovin' Spoonfuls. We are also empowering our restaurant customers to give back through a new Online Ordering feature that enables them to support fundraising campaigns for local and national causes and to invite their guests to round up their order to the nearest dollar. And we have pledged to match donations made through this feature dollar for dollar up to $100,000 (beginning #GivingTuesday and through the end of December) for donations made to World Central Kitchen and their efforts to support local restaurants in providing meals to those who need assistance.
Hacking Against Hunger: During our November Hackathon, Toasters created projects aimed at helping address hunger and food insecurity, such as enabling Toast Restaurant guests to pay a meal forward to someone in need and connecting the clients of local nonprofits with restaurants who have extra food. It was inspiring to see the energy of Toasters brought to bear on this important community issue, and we are excited to continue to consider how our products and innovations can help those in need in the future.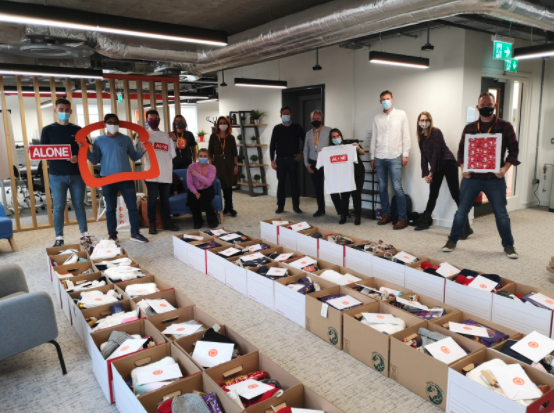 Dublin Toasters packing holiday hampers for local seniors with ALONE.
As we move into the holiday season, we are incredibly thankful for the efforts of our employees, restaurants, nonprofits and partners to make a difference in the lives of our neighbors. But we also recognize that there are still significant global challenges that we must all come together to address, from economic disparities that have been exacerbated by COVID to issues of racial inequality to climate-related disasters. At Toast, we are committed to bringing the strength of our people, our products and our philanthropy to bear in addressing these challenges and to furthering our goal of creating a healthier, more sustainable and equitable world. You can learn more about our efforts and opportunities to partner with us at Toast.org.